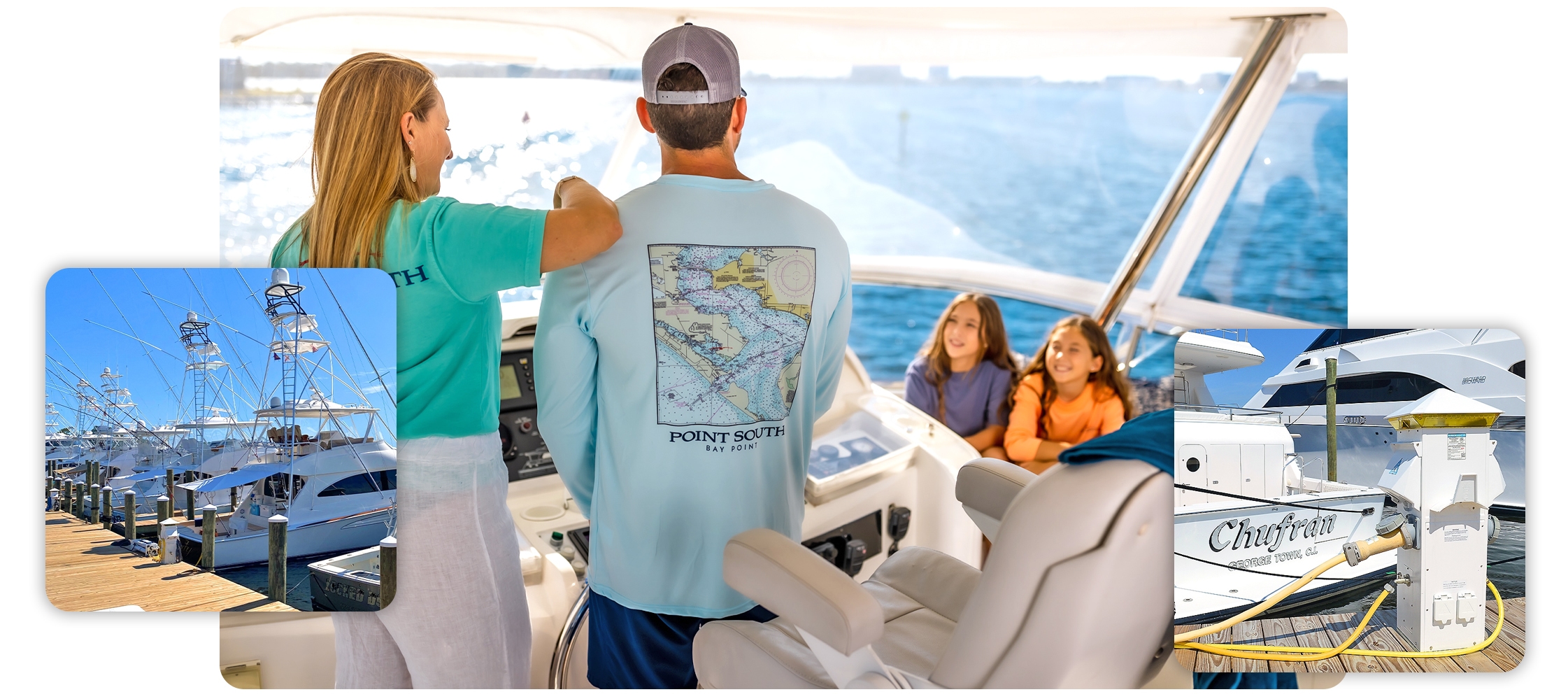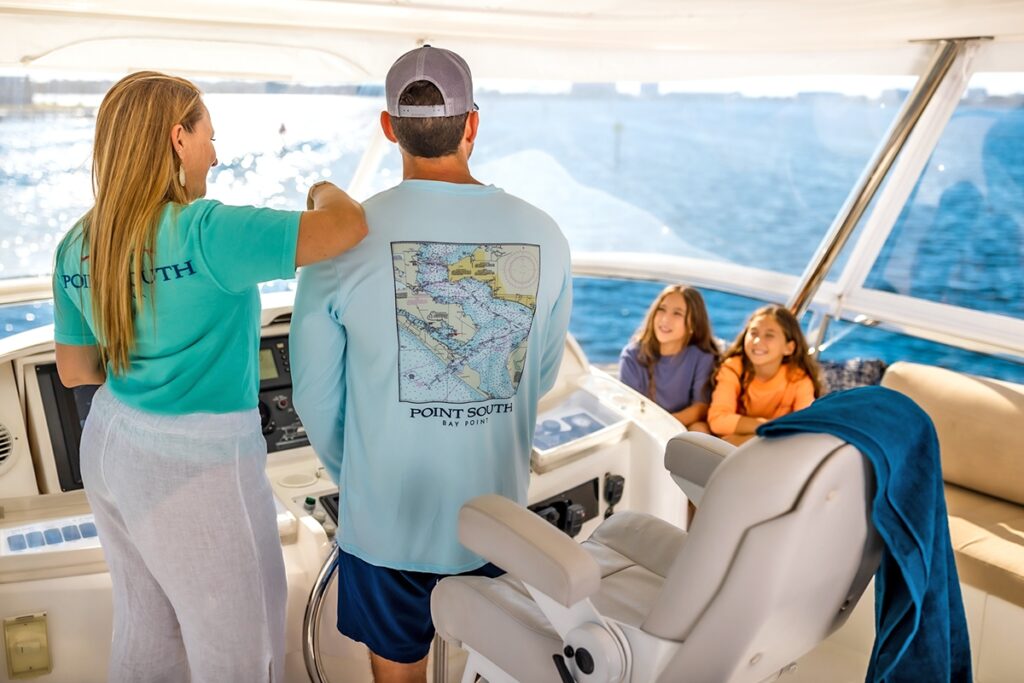 Point South Marina
Bay Point
Point South Marina is more than a marina; it's a community of sportsmen drawn to the water. Founded in 1965 and now nestled in the Bay Point community, we are a full-service marina and fuel dock for boaters with 30′ to 120′ ft. vessels. With state-of-the-art slips and facilities, you can be sure that your boating experience with us will be nothing short of extraordinary.
Whether you're looking to dock your boat for a few hours, weeks, or all season, our marina is the perfect destination. Our knowledgeable staff and dispatched radio attendants are always on hand and ready to provide prompt and efficient service. We're available to answer any questions about our marina, the historic Grand Lagoon, and the Panama City Beach area. We can offer recommendations to suit any interest or lifestyle, including pontoon rentals, fishing charters, and boat club memberships. With curated amenities and a service level centered around southern hospitality, Point South offers an elevated experience at sea level.
Contact the Marina
Physical Address:
3824 Hatteras Lane
Panama City Beach, FL 32408
Mailing Address:
PO Box 28150
Panama City, FL 32411
Phone: 850.235.6911
By the Years | Circa 1965
Bay Point Marina
Opens in 1965
Founded in 1965 and born out of a pure passion for life on the water. The marina is still located in the historic Grand Lagoon, an area known for being the fastest and easiest way to get to the Gulf for tourists and locals alike.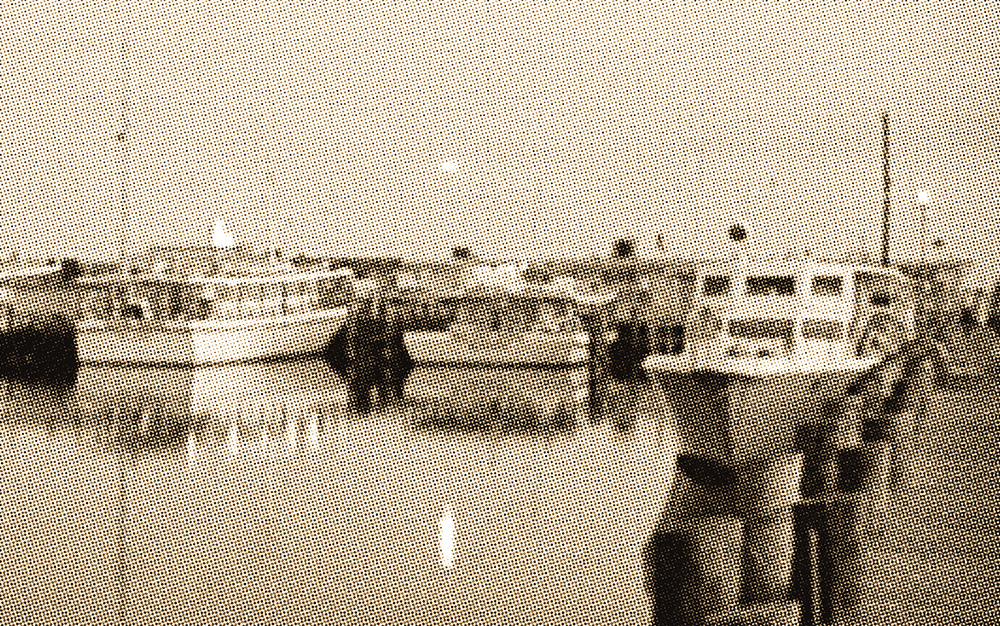 Hosts the inaugural
Bay Point Invitational
The original Bay Point Invitational, which ran from 1984 to 2012 and attracted thousands of locals and visitors alike to the marina each July. The event was cancelled after the Deepwater Horizon oil leak. Click to learn more.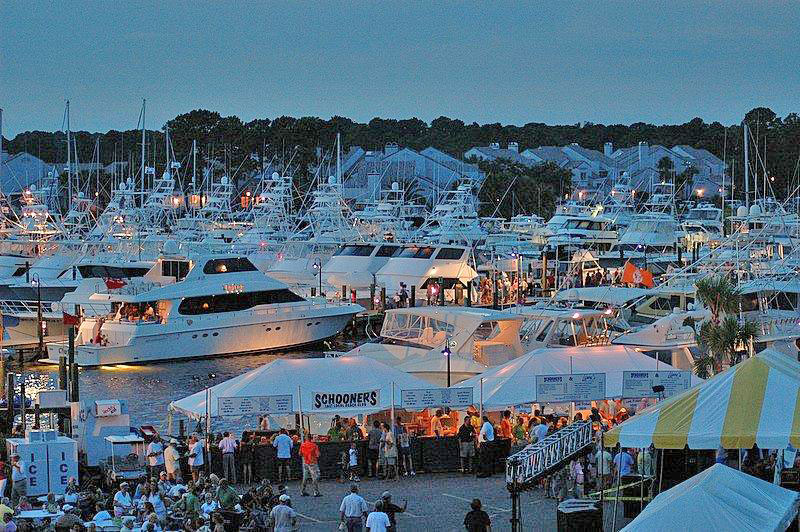 State-of-Florida Record
Blue Marlin
1,049 pounds
Conrad Hawkins caught the Marlin during the Bay Point Invitational in 2001. Hawkins was fishing aboard Lucky II, a 51-foot Bertram, captained by Tommy Browning. At that time, it was not only the state record but also the Gulf of Mexico record. Click to learn more.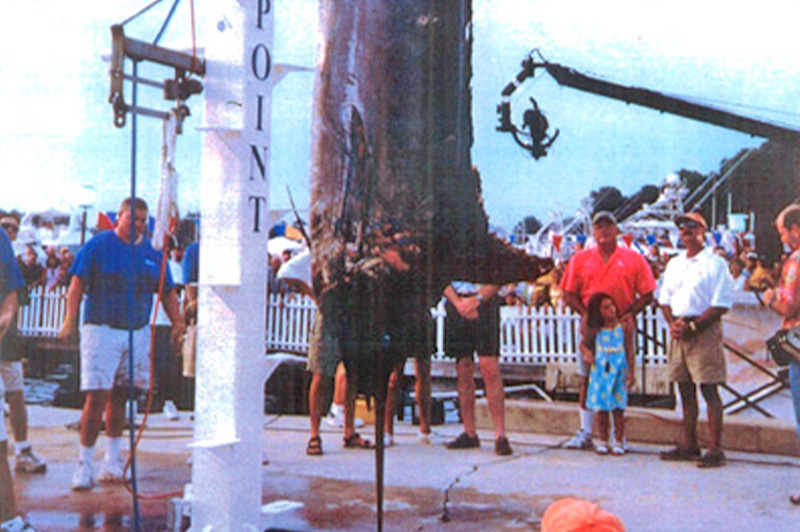 Hurricane Michael
Destroyed entire marina
On Oct. 10, 2018, Michael made history as the first Category 5 hurricane on record to impact the Florida Panhandle. Panama City Beach suffered some of the worst of Michael's damage, fracturing thousands of homes and businesses and destroying the marina.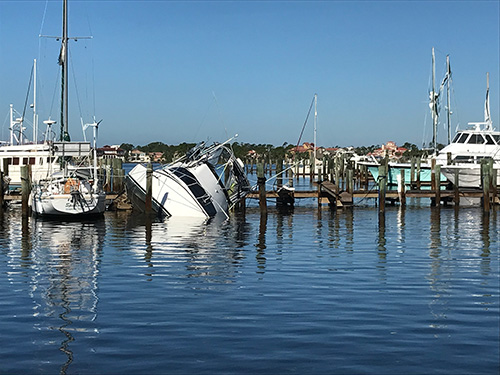 Completely rebuilt
Point South Marina reopens
In 2022, after 4yrs. in hurricane recovery, this long-time favorite hub fully reopened as Point South Marina at Bay Point. With 127 state-of-the-art slips and modern facilities, the marina offers southern hospitality and historic charm rooted in its passion for life on the water.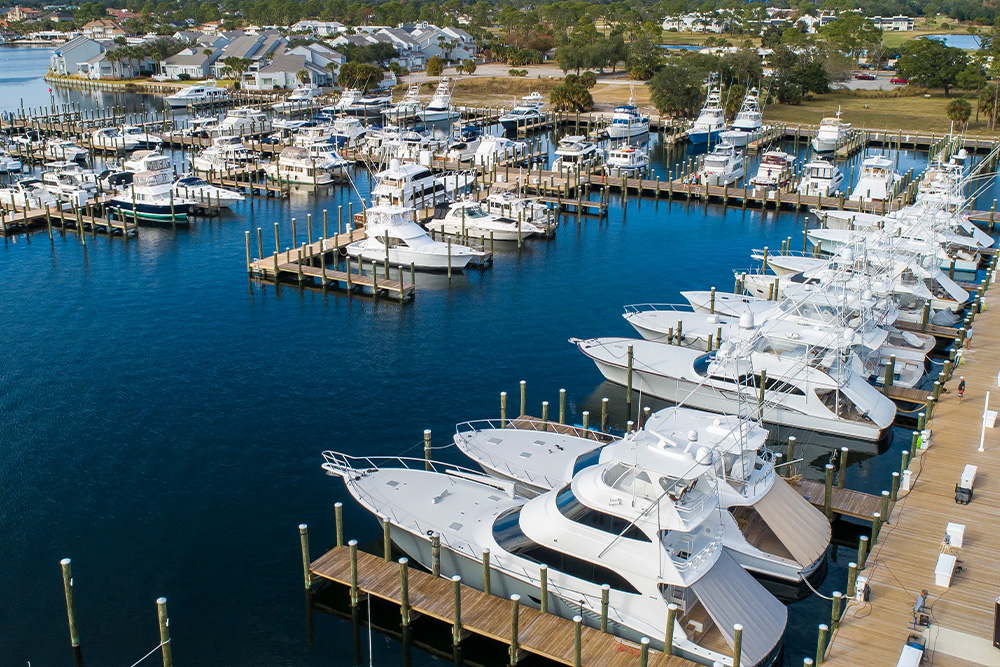 Bay Point Billfish Open Returns
After 10 years
More than a decade after the last Bay Point Billfish Tournament, a new Blue Marlin tournament is coming back to the newly rebuilt docks at Point South Marina at Bay Point. Click to learn more.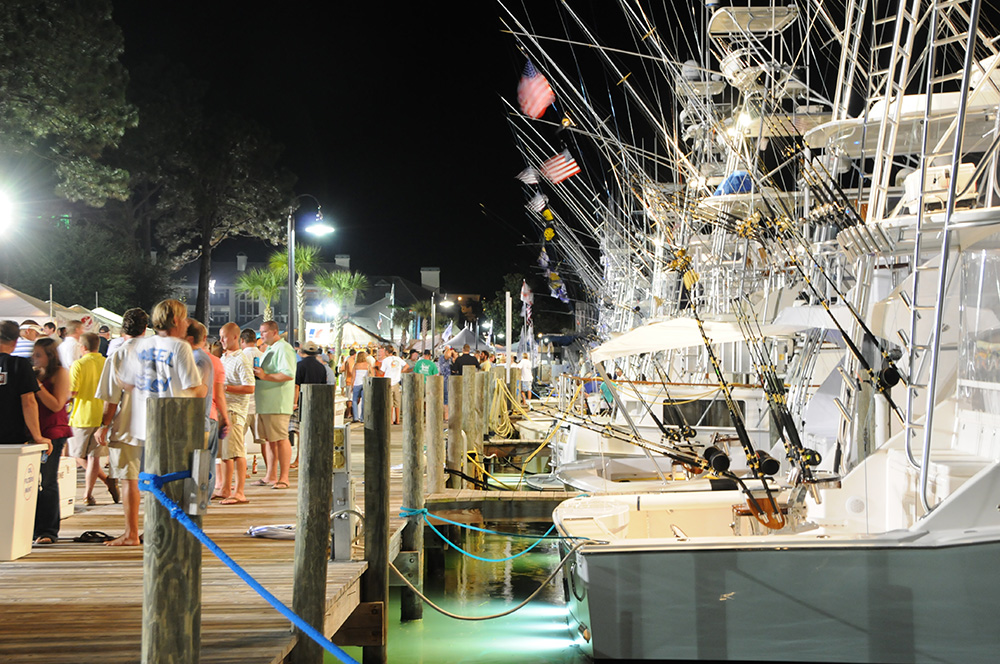 More than just a marina
Membership at Point South comes with more than access to slips, storage and incredible customer services, it comes with amenities not yet seen at traditional marinas. These are the elements that truly create an elevated experience at sea level.
Amenities
Competitively Priced Fuel Dock
Private Pool Overlooking the Bay
30/50/100/200 AMP Connections
In-Slip Pumpout
High-Speed Wi-Fi
Ship Store
Boat Launch (Exclusively for Marina Tenants)
Fish Cleaning Station
Radio-Dispatched Dock Attendants
Topside Detail
Bottom Cleaning
Laundry & Coffee Facilities
Things to Do
Fishing Charters
Pontoon Rentals
Boat Club Memberships
Bay Point Billfish Open
Serenity Spa
Bay Point Golf Club
The Powder Room